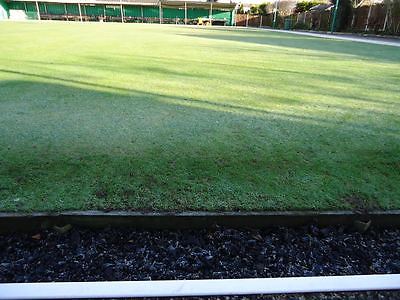 This product – bowling green recycled rubber ditch fill is simple to install and creates a cushion to protect your woods.
Here at Safety Play we make our rubber chippings from recycled car, van and lorry tyres. We supply recycled rubber products right across the UK. We are proud that all our range is 100% made in Britain.
The product has had excellent feedback as it adds value to bowling greens right across the UK.
Why Should You Use Rubber Chippings in Your Bowling Green?
Rubber chippings improve the drainage in your ditch as they allow water to soak through. Safety Play chippings are efficient and cost-effective, they last for many years without rotting, decomposing or risk of blowing away.
How much do you need?
A bowling green will typically use 1000kg of rubber ditch fill (this is typical for an average UK bowling green). If you have a different size, or are a little unsure please call one of our team on 01444 226 363. We are happy to assist you with any questions you may have.
How much will it cost?
The normal cost for 2 x 500kg bulk bags of bowling green ditch fill is £250.00. This includes delivery to your club and VAT.
How we deliver it?
Safety Play delivers in 2 x 500kg bulk bags on pallets. We use a pallet delivery network company (Tomsetts). When ordering please give us as much detail as you can to aid a smooth delivery. We will liaise with the pallet delivery company for you to ensure it all runs well. We can also instruct the pallet delivery company to telephone you one hour before they arrive.
How do you install it?
Installation could not be simpler! Decant the recycled rubber chippings from the bulk bag into a wheelbarrow. Then tip it into place in your ditches around the bowling green. You can level them with a rake, brush, or a good old pair of boots! Installation really is that simple!