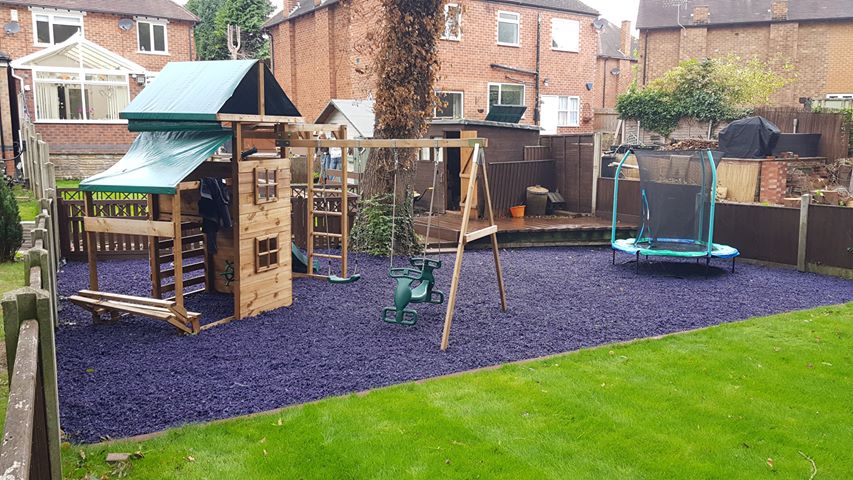 Safety Play rubber chippings can be used in so many different ways, from children play areas, to chicken runs and pathways – the possibilities are endless. As with anything you buy, whether you're a school, home or business, we know you'll want to ensure your investment stays in the best condition for many more years to come.
That's why we've created the Safety Play Guide to keep your rubber chip looking in it's very best condition, regardless of how often they're used.
STEP ONE
When your Safety Play chips arrive and you have lay them out, you may think they look a little dusty or that the colour is rubbing off. This is simply because the fibres can create a lot of dust in transit. If you find you have this problem simply water them down with a hose and they will be ready to go.
STEP TWO
Every 6 months or so you should start by simply brushing any foreign objects away, things such as stones, pebbles and twigs etc. When autumn arrives and the leaves begin to fall you may find it's easier to invest in or hire out a leaf blower to make the task of removing them easier.
STEP THREE
If your rubber chip gets a good use, be it in a playground, a chicken run or wherever else you may be using it, then it may begin to look slightly mucky. Thanks to good old British weather and decomposing leaves, it can become quite dirty and look as though the colour has faded. We recommend using a soft bristled outdoor sweeping brush with warm soapy water and just giving the chippings a good scrub – this will not cause the colour to come off. Alternatively if you have a pressure washer then this could be used, but we do strongly recommend only doing so on it's lowest setting.
OUR FINAL THOUGHTS
While Safety Play chips don't hold on to moisture, meaning they cannot freeze, over the top layer you may experience frost during the winter months. We recommend using a human and animal friendly de-icer solution to allow for year round usage. Rock salt or grit, while cheaper options, can damage the surface of your rubber and leave colours looking damaged and faded.